Type 2 Ambulance Vans
There is industry standard, and then there's AEV. While this statement applies to our manufacturing excellence and hands-on American craftsmanship, it also pertains to the value we pack into every Type 2 ambulance. You'll be hard pressed to find so many high-end features in other van ambulances. There's a reason AEV is one of the top choices among Type 2 ambulance manufacturers in the U.S., and it starts with our LEAN manufacturing process.
Quality Built
You haven't experienced ambulance vehicle equipment that truly caters to your unique needs until you've experienced AEV hands-on American craftsmanship.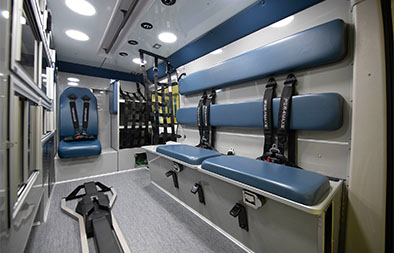 Custom Type 2 Ambulances
At AEV, we offer countless ways to build your ambulance that will cater to the needs of your crews, exceed safety standards and answer the community's call. Here, the only way you'll find two ambulances alike is if you ask for it.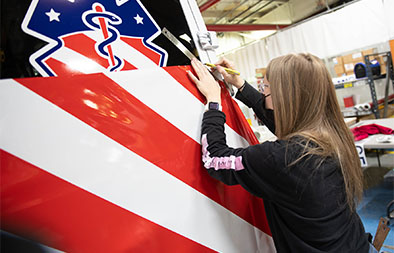 Remarkable Lead Times
We understand that our Type 2 fleet owners have organizations to run where downtime equals lost time and profit. At AEV, we offer some of the fastest lead times in the Type 2 ambulance industry. Like you, we're swift to answer the call.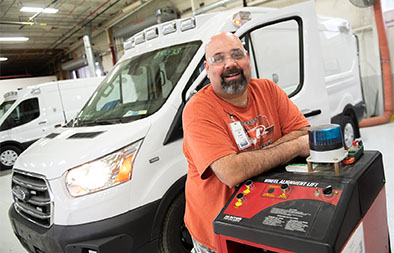 A Detailed Visual Manufacturing Process
Starting with an exclusive Mickey-manufactured body, AEV builds each custom unit using a detailed visual process—a board stocked with parts and tools specific to that ambulance to ensure we meet your every spec.
Standards
Ideal for narrow city streets and efficient fuel consumption, AEV's Type 2 ambulance lineup is well suited for commercial emergency transport.
Body
Flooring: Choice of optional colors (GM, Sprinter and Gold/Platinum Transit)
Headliner: One-piece front to rear, gloss white
KKK/CAAS package: To present revision (exceptions may apply)
Paint: OEM white
Patient floor: Plywood, full-length and width
Rear bumper: Center agressive stepping surface, and tread plate.
Rear threshold: Non-skid coated metal (Transit) and 3M (yellow/black) tape (GM)
Roll cage: Steel tubing with diagonal supports welded for added strength
Top: AEV fiberglass distinctive design (GM)
Undercoat: Per QVM Industry guidelines
Upholstery: Choice of optional colors (Ford, Sprinter and GM)
Doors
Panels: OEM (Sprinter and GM)
Seating
Attendant seat: Captain's chair with Per4Max Belting System
Curbside: One Per4Max on Squad Bench
Cot mount: Ferno or Stryker
Upholstery: Choice of optional colors
Compartments
Backboard storage: Slide in from rear doors or vertical forward front of ALS Cabinet
Oxygen cylinder rack: Aluminum, vertical at rear of squad bench (GM)
Oxygen cylinder rack: Horizontal across front bulkhead on slide tray (Sprinter and Ford)
Spare tire: Mounted under rear in OEM location
Cabinets/countertops
Action area cabinet: ABS (GM)
Action area cabinet: Color key laminated (Ford and Sprinter)
Behind attendant seat cabinet: Storage cabinet with wooden door, HVAC in bottom (GM)
Bulkhead supports: Steel brackets
Cabinet Doors: Flush with aluminum trimmed edges
Cabinet Laminate: Choice of optional color
Cabinet Right Front: Accommodation for Lifepak and drug boxes (Doors Optional)
Polycarbonate: Gray tinted or clear with full handles to meet Change Notice 8
Straps: One for stair chair, one for back boards if stored in front of ALS Cabinet
Partition door cabinet: Sliding with solid window (GM)
Partition door cabinet: Solid wall with sliding window (Sprinter and Ford)
Electrical system
125vac outlets: Two total, one action area, one RF-ALS (GFI protected)
Batteries: Two total, OEM locations
Battery switch: Cole Hersee 2484-16
Coax cable: One tagged at both ends
Console: On engine cover (overhead available)
Electrical system: Printed circuit boards with LED diagnostics
Inverter prewire: Universal under action area
Oxygen outlets: Two total, Ohio style
Shoreline: Inlet located on street-side behind driver's door
Wiring: Color, name and number coded with as built schematics on USB drive
Emergency alert
Back-up alarm: With auto reset switch
Siren: Whelen WS-295
Siren speakers: Dual 100watt
Lighting
Action area lights: 12vdc under action area board
Dome lights: LED for both streetside and curbside
Indicator lights: Door, low voltage and battery on cab console
Third brake lights: OEM on rear of ambulance
Warning package lights: Whelen perimeter lighting (GM)
Warning package lights: Whelen perimeter lighting, LED (Ford and Sprinter)
Environmental
Heat-A/C: Ceiling ducted for (Ford & GM), Sprinter ducted with 2nd Compressor
Insulation: Reflectix circumferential package
Safety
Antimicrobial Recessed Overhead Grabrail
Complies with all SAE Standards
Seatbelt Harness Seat Belt System: Per4Max
Models
Choose from the Sprinter 2500, the Chevy GM 3500 or the Ford Transit 250/350 ambulance chassis.
| Model | Wheelbase | Headroom |
| --- | --- | --- |
| Ford Transit | 148″ | 74″/66″ |
| Mercedes Sprinter 2500 / 3500 | 144″ | 73″ |
| Chevrolet G3500 | 155″ | 65.5″ |