Type 3 Ambulances
AEV's meticulous manufacturing operations make it one of the most trusted Type 3 ambulance manufacturers in the industry. Available in models from 148″ to 172″ and longer and in five ambulance chassis types, the AEV Type 3 ambulance lineup is one of the industry's most versatile—not to mention, well-crafted.
Quality Built
You haven't experienced a vehicle that truly caters to your unique needs until you've experienced AEV.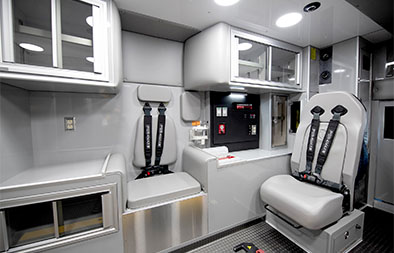 Custom Type 3 Ambulances
When it comes to an AEV ambulance, our standards are anything but. With countless ways to build your ambulance that will cater to your crew's needs, exceed safety standards and answer the community's call, the only way you'll find two ambulances alike is if you ask for it.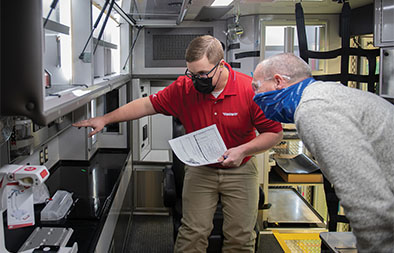 We Start with a Feasibility Study
At AEV, the buying process is a one-on-one experience that starts with a feasibility study. From custom conveniences for your crew to paint schemes unique to your fleet, no detail is ignored. Even with all that effort, we still offer some of the industry's best lead times.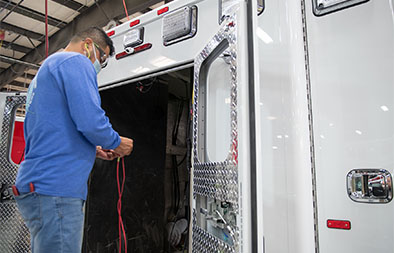 A Detailed Visual Manufacturing Process
Starting with an exclusive Mickey-manufactured body, AEV builds each custom unit using a detailed visual process—a board stocked with parts and tools specific to that ambulance to ensure we meet your every spec.
Standards
We equip our Type 3 ambulances with so many high-end features, you'd be hard pressed to find others that compare.
Body
C/S upper windows: Standard, tint fixed
Drip rails: Bright finish aluminum
Fasteners: AVK nutserts for attachment of door panels
Fender flares: Aluminum
Fender flares: Aluminum (Full Size Mods), Rubber (Ford Fleethawk, DR-90 & Sprinter DR-86)
Flooring: Choice of optional colors
Fuel fill: Aluminum housing
Headliner: One-piece front to rear, gloss white
KKK/CAAS package: To present revision
Paint: OEM white industry match
Patient floor: Plywood, single piece, full-length and width, insulated
Rear bumper: Tread plate with flip-up aggressive step center section
Rear upper windows: Standard, tint fixed
Reflectors: Six total, four rear and two front
Roll up flooring: 3" recessed (except for DR-92 & Fleethawk)
Skirt rails: Diamond plate
Striping: Single belt (optional)
Undercoat: Per QVM industry guidelines
Upholstery: Choice of optional colors
Doors
Door hold opens: Grabbers on rear doors
Handles: Handicap style on all entry doors, antimicrobial
Seating
Attendant seat: Captain's chair on storage box with Per4Max Seatbelt
Cot mount: Stryker or Ferno
CPR seat: Street-side with Per4Max Seatbelt and telemetry area (Optional on Fleethawk, DR-92 & Sprinter)
Squad bench: with Per4Max Seatbelt System
Compartments
Backboard storage: Location determined by body design
License plate holder: Recessed in rear kick plate with LED Light
Lining: Diamond plate
Oxygen cylinder rack: Aluminum, LF compartment, (Transverse on Sprinter)
Shelves: Determined by body design
Straps: One total, for backboard storage
Spare tire: Shipped loose except for DR-92 and Fleethawk
Cabinets/countertops
Action area cabinet: Laminated countertop
Biowaste system; Curb-side, at head of squad bench (rear of S/B on Sprinter)
Laminate cabinet: Choice of optional colors
Partition door cabinet: Sliding with sliding window (Solid wall on Sprinter)
Polycarbonate: Gray tinted or clear with full handles complies with Change Notice 8
RF cabinet: for storage of Lifepak and Drug boxes (Open on DR-92)
Right rear cabinet: Open for easy inside access (Sprinter)
Storage cabinet: Access under action area for electrical components (Ford DR-92 only)
Street-side: Large openings with set back dividers (FleetHawk, DR-90 & Sprinter)
Electrical system
TraumaHawk Telematics AVI System (for TraumaHawk Models)
12vdc outlets: Two cigar outlets
125vac outlets: Two total, one action area, one RF-ALS
Batteries: Two, (1) Underhood, (1) RF,  OEM locations (Sprinter DR-86 only)
Battery Switch: Cole Hersee 2484-16
Coax cable: One tagged at both ends
Console: Ergonomically designed between cab seats
Electrical cabinet: Above walk-thru with lever latch (FleetHawk and DR-92)
Electrical cabinet: Behind attendant's seat (Full size modular)
Electrical cabinet: Forward street-side wall above HVAC cabinet (Sprinter DR-86)
Electrical system: Printed circuit boards with LED diagnostics
Oxygen outlets: Two total, Ohio style
Shoreline: inlet located on street-side behind M1 compartment
Wiring: Color, name and number coded with as built schematics
Emergency alert
Backup alarm: With auto reset switch
Siren: Whelen WS-295
Siren speaker: Dual 100 watt
Lighting
Action area light: 12vdc LED
Clearance lights: LED on front and rear with recessed corner lights
Dome lights: LED  for both streetside and curbside
Indicator lights: Door, compartment ajar, low voltage and battery on cab console
Load lights: Two Whelen on rear
Scene lights: Two Whelen on each side
Side marker lights: On sides of body
Tail lights: Triple light cluster on rear
Third brake lights: Mounted over rear doors
Warning package lights: Whelen perimeter lighting
Environmental
Heat-A/C: Ceiling ducted (except FleetHawk)
Insulation: Reflectix circumferential package
Safety
Antimicrobial Recessed Overhead Grabrail
Complies with all SAE Standards
Seatbelt Harness System: Per4Max
Crash Tested Modular Body
Emergency Entry Door Release Latches
Models
Choose from the Ford E-350, Ford E-450, Chevy GM 3500, Chevy GM 4500 or the Sprinter 3500 chassis.
| Model | Length | Width | Headroom |
| --- | --- | --- | --- |
| Ford E-350 | 145″-148" | 90″-95" | 66″-70" |
| Ford E-450 | 164"-172″ | 95″ | 68″ |
| GM 3500 | 145″-148" | 90″-95" | 66″-70" |
| GM 3500 DR92 | 145" | 92″ | 66″ |
| GM 4500 | 172″ | 95″ | 68″ |
| Sprinter 3500 DR86 | 148″ | 86″ | 73″ |