Value, By Design
Modern and durable gel-coated fiberglass is used throughout to make up the cabinetry, including basewall cabinet work areas and squad bench. Radius edges and seamless cabinetry are not only easier to clean and disinfect between patients, but the smooth edges reduce the risk of emergency responder injuries during collisions or sudden braking. The all-aluminum vehicle body features a fully-welded tubular super structure with aluminum exterior skin, which exceeds the federal standards for ambulance safety.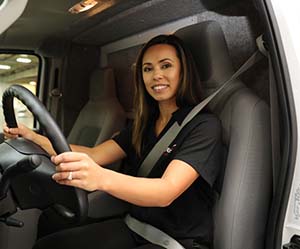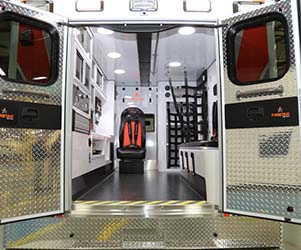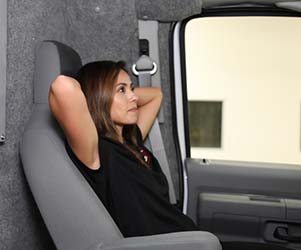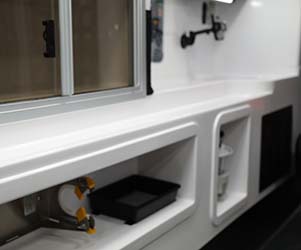 Full Aluminum Module
146 x 90 x 70" Int HR
(4) Exterior Compartments
LF: 58.6"H x 20.7"W x 17"D Alum Diamond Plate
Oxygen Storage in LF Adjustable "M" or "H" Cylinder
LR: 75.8"H x 23"W x 7/17"D Alum Diamond Plate
Backboard and Stair Chair Storage in LR
RR: 29″H x 32″W x 13.5″D Alum Diamond Plate – Type 1 Only
RR: 26"H x 31"W x 13.5"D Alum Diamond Plate – Type 3 Only
Spare Tire Storage in RR
LF: 62.5"H x 18.3"W x Inside/Outside access to ALS Cabinet
Stainless Steel Wheel Simulators
Eberhard Door Hardware
High Power Free Flow HVAC System
Full Fiberglass Interior Cabinetry with White Gelcoat
All Interior Cabinets have Rounded Corners
Recessed Work Tray in Action Area
Rolled in Flooring Material
Solid State Electrical System with Rocker Switches
10″ of Seat Travel and Crew Storage in Cab – Type 3 Only
Insulation Package: Spray Foam and Reflexite
Backup Camera System
12v Outlets: Cigar Style and USB
Taillights are LED
Per4Max Seat Belts in all Patient Area Crew Locations
Warning Light Package are all LED
Underride Rear Step Bumper
Aluminum Diamond Plate Skirtrails
15 Year Body Structural Warranty
Power Door Locks
Hidden Unlock Switch in Grille
Cab Running Boards
LED Scene and Load Lights
Auto Eject Shoreline
Inverter
Rear Dock Bumpers
Variety of Upholstery Colors
Variety of Floor Colors
Paint and Graphics
Glove Storage in S/B – Type 1 Only
3rd Oxygen Outlet
3rd 125vac Outlet
Add on Cab Console
Doors on Upper ALS
Cot Mount
Secure Idle
Ship Loose Portable O2 Bracket
Type 1
Engine: Ford, Chevy & Dodge OEM offerings
Transmission: Automatic
Fuel Tank: OEM
Brakes: Anti-Lock
Alternator: OEM
Type 3
Engine: Ford or Chevy gas engine options
Transmission: Automatic
Fuel Tank: OEM
Brakes: Anti-Lock
Alternator: OEM
Would you like further information on Firstar?
(select other in the drop down below)